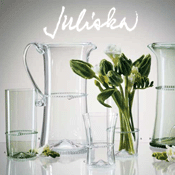 Juliska
This amazingly delicate glassware is mouth-blown by artisans in the hills outside Prague. Their techniques have been passed down through generations, and we are excited to bring it to your table! Available in sets and fun as accent pieces, it also makes an unexpected gift.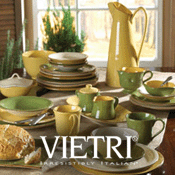 Vietri
One of our favorite tableware lines, Vietri is the largest importer of exclusively Italian handcrafted products for the better specialty market. The magic of Italy and their skilled artisans keep Vietri vibrant and passionate about bringing to you Italy's best in creations, colors and design. Available in many gorgeous patterns and pieces, this tableware makes a bold statement, and yet it is practical for everyday use.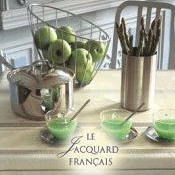 Le Jacquard
A wonderful French company, Le Jacquard Français has become the unchallenged reference for damask linen. You will enjoy their combination of unforgettable colors and textures, as you can choose from formal or casual motifs. It combines beautifully with Vietri, and it is available in tablecloths, placemats and napkins.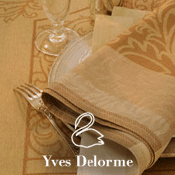 Yves Delorme
A feast for the eyes always precedes the pleasure of eating. With a palette of colors and a harmony of motifs and textures that highlight an appreciation of the table, every design promises beautiful moments to savor. We also love to mix this with Vietri or Juliska, as their distinct colors are enhanced by these wonderful damask linens.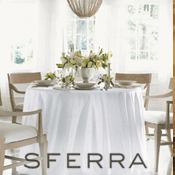 Sferra
A leader in fine Italian table linens, Sferra has mastered the art of dressing the table in sophistication and splendor. We love their tone on tone damask designs, their hemstitch detailing, and their white linen cloths are undeniably gorgeous!
Table Lines
Email Updates
Sign up to receive email updates from Custom Linens about sales, discounts, special offers, new products and more exciting news!
NOTE: Email Newsletters are sent from info@customlinens.net, please add it to your address book to ensure delivery.