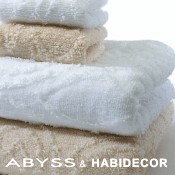 Habidecor & Abyss
Abyss is one of the most widely respected bath linen companies in the world! Boasting the world's finest Egyptian cotton and linen, these towels are exceptionally soft, absorbent and strong. Abyss also offers a stunning array of colors.
Habidecor rugs are at the top of the industry balancing exceptional quality and design. Their classic "must" rug is offered in 60 colors, so you are sure to find the perfect look for your bath! We have enjoyed this rug for many years.
Peacock Alley
We stock the wonderfully soft "Rhapsody" towel. It is 100% Egyptian cotton with a dobby border and is offered in many beautiful colors.
Yves Delorme
Yves Delorme is known for coordinating your bath linens with your bed linens! Their classic "Olympe" towel comes in many wonderful colors and looks fabulous when coordinated with their prints.
Bath Lines
Many of our Bedding lines offer towels: Anichini, Archipelago, Matouk, SDH and Sferra. We wish we could stock them all!
Our focus on bath linens is Habidecor & Abyss, Peacock Alley and Yves Delorme.
Email Updates
Sign up to receive email updates from Custom Linens about sales, discounts, special offers, new products and more exciting news!
NOTE: Email Newsletters are sent from info@customlinens.net, please add it to your address book to ensure delivery.