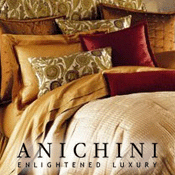 Anichini
The old-world charm of classic lines meets modern style. Customers appreciate the investment quality. Their brocades, tapestries and decorative fabrics are fabulous.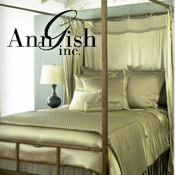 Ann Gish
She is well known for being a leader in the creation of contemporary silk bedding, luxury created for the senses. Her seaflower pillows are only one of our favorites.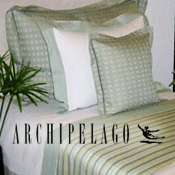 Archipelago
Known for its simple, striking designs and remarkable use of color. This line features the modern and the traditional, made from fabrics from all over the world! Suedes to linen, neutral to bold.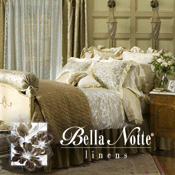 Bella Notte Linens
Easy care luxury linens. From fun to sophisticated, from washer to dryer, this bedding comes in a beautiful palette of colors and textures.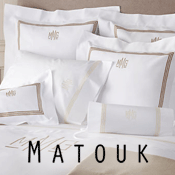 Matouk
This company was founded in 1929. Today, second and third generations remain committed to designing and manufacturing fine bed and bath linens. Their monogramming program is wonderful!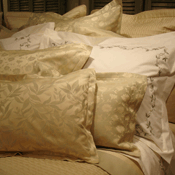 NC Souther
Bagni Volpi Noemi by NC Souther is located in the beautiful Italian countryside outside of Florence. Established in 1926, their factory produces the world's finest linens with precise and expressive embroidery.
Peacock Alley
Timeless and traditional in style. Ageless matelasses in neutral tones and prints with a touch of color combine beautifully.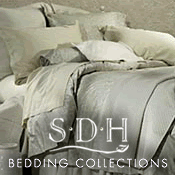 SDH
Provider of an all natural lifestyle. Elegant assortments include a wood fiber from Italy which offers a silk hand. The fabric is harvested from managed forests. Their linen fabrics are also some of our favorites.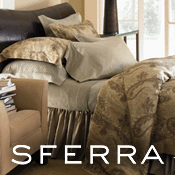 Sferra Fine Linens
Established in 1891, Sferra continues to design for the times by creating comfort and elegance. They excel in quality, as their sheeting is among the highest thread count in the world.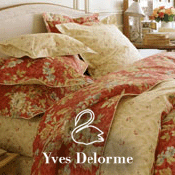 Yves Delorme
A division of the family owned French company, Fremaux Delorme, they present fresh looks season after season. In addition to unforgettable florals, they offer a range of classic solids and sophisticated neutrals.
Bedding Lines
We feature several bedding lines, each creating its own style and craftsmanship.
Email Updates
Sign up to receive email updates from Custom Linens about sales, discounts, special offers, new products and more exciting news!
NOTE: Email Newsletters are sent from info@customlinens.net, please add it to your address book to ensure delivery.