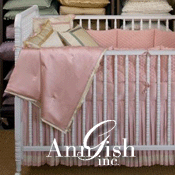 Ann Gish
A new addition to her fabulous silk bedding line, Ann Gish surprises us again with baby's own special linens! Famous for her creative pillows and use of color, you can now enjoy a complete set for baby's crib.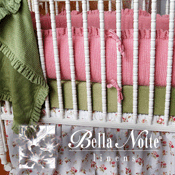 Bella Notte
Rich colors and textures characterize this luxurious baby bedding. Fabrics such as satin and velour lend both comfort and sophistication, and all the pieces are washer/dryer friendly.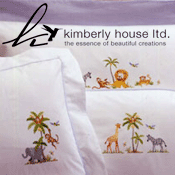 Kimberly House
Hand embroidered designs are playful and the colors will fascinate your baby as he sleeps on this 100% Egyptian cotton bedding. Pastel or bold color ways are offered along with gingham or striped accents. Year after year, their unique creations amaze us!
Baby Bedding Lines
We celebrate new life by offering the finest baby bed linens to your little ones! They also enjoy super soft Egyptian cotton and smooth silk, as these natural fibers are perfect for any season. Easy care makes them even more ideal for baby's nursery. We want to help your baby cultivate a taste for beautiful and quality linens with these fine bedding lines.
Email Updates
Sign up to receive email updates from Custom Linens about sales, discounts, special offers, new products and more exciting news!
NOTE: Email Newsletters are sent from info@customlinens.net, please add it to your address book to ensure delivery.